How to Request an Estimate with Queens Tree Company:
To request an estimate please call or text 929-297-0597
Please send over your address with a photo of your tree to Queens Tree Company. This will let us give you a general idea of pricing.
Tree Removal Estimates:
It is important to understand that each tree is unique because of its height, width, health and proximity to cable wires or property.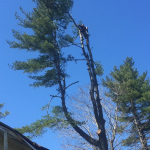 Whether or not is a tree needs to be carried through the home if there is no backyard access is also a variable. If a tree is too close to cable wires our team may have to order a piece of equipment to help remove branches as our tree climber makes the cuts. No matter the reason, when you want to find the best tree company in your area we are just a phone call away. We provide every customer with the absolute best tree service and customer care, guaranteed!
When you are in need of a local tree company that can help you with your tree removal, tree pruning and tree trimming in Queens than we invite you to give us a call.
Our tree experts and tree contractors are standing by 24/7 to assist you. Request an estimate from our Queens Tree Company for any tree removal, stump grinding, tree cutting or tree service in Queens. Call Us 929-297-0597