Best Tree Service in Queens
Welcome to the best Queens Tree Service! Although that may sound like a big statement, we stand by it. Just ask our customers or read our reviews. We are one of the only tree companies on Yelp to have a five star rating. Clients are happy not only with the work we complete, but our team. Most of the time our clients develop a liking for the owner, Joseph. When they are able to feel comfortable and trust the people they hire, it becomes a more stress-free environment.
Tree Inspections
Removing or cutting a tree can be a big procedure depending on many factors. This includes the height, width, location and health of the tree. Along with what type of situation it is. Emergency tree removal requires extra care, especially if the property or homeowners are in danger.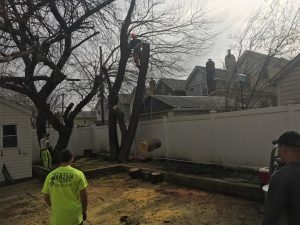 No matter the time of night it is you can always call our team of Tree Service experts in  Queens. Our tree climbers and tree cutters worked through the worst storm that ever hit New York, Hurricane Sandy. It was a very stressful, hard and difficult time for people in Brooklyn and Queens. However, with efforts from our team and even outsiders we were able to make a big difference. This is why when our neighbors are in need of tree removal, tree cutting, or a Queens Tree Service provider they call us!
Queens Tree Company
Our Queens Tree Company can remove any tree from any location. That we pledge by. Even if we have to cut the tree and walk the pieces through the house because there is no backyard access. It takes much longer, especially when we have to be extra careful as to not bump into furniture. But it will get done efficiently.
Although we have not made a big mistake yet, Queens Tree Service Company has both company and workers comp insurance. If anything were to ever happen by chance, we have got you covered. Most customers do not realize how high rick the tree removal company is. It is important that you do your due diligence when looking for this type of service. Usually the companies offering discounted rates also have discounted services.
For more information about our tree services in Queens, please call 929-297-0597!