The Process of Tree Removal
If you are looking for a Queens Tree Removal company, please call us at 929-297-0597. Removing a tree can be a very difficult job depending on the size or proximity to home. However, at Queens Tree Company this is never an issues. Our tree professionals are trained and seasoned for any type of tree service.
Over the past few years we have removed trees over three stories high wedged between two co-op buildings.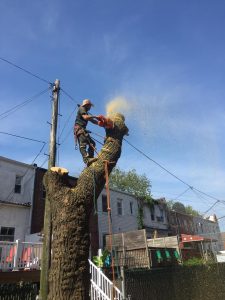 With that said it is important to under the process of removing a tree. The first question we have to ask you is if it is a city tree. If that is the case you will need to file a tree work permit to the city. After they give us the go ahead we can remove the tree, although this can take a long.
Whether or not there is backyard access will also be a large factor. If we have to carry tree debris and branches through the home will make job longer. We also need to know the proximity the tree is to property and cable wires.
Reasons for Tree Removal
The best time for Tree Removal is during the warmer seasons. This means there is a less of a chance of work being delayed or canceled. During the summer a lot of property owners call us to get their homes ready for entertaining. Others are getting their homes ready to sell and want to increase the value by creating a beautiful landscape.
Other situations might not be so ideal. Bad weather conditions can cause trees and branches to break or fall. This can cause damage to personal property and people around the area. Although we can not necessarily control what the weather does we can avoid it in some cases. By checking the health of your tree a few times a year you can avoid weak or strong winds knocking it over. When trees are rotting or ill the chances of them falling increasing dramatically.
Local Tree Service
Whenever you are in need of any kind of tree service we want to hear from you. We get calls from simple tree trimming requests, to large scale tree stump removal!
By calling a tree arborist from Queens Tree Company they can decide if it calls for tree removal. Sometimes you may be able to bring the tree back to health by removing the sickly areas or branches.
To book an appointment of ask any questions regarding tree removal please call 929-297-0597.