Queens Tree Removal
Welcome to our Queens Tree Removal company. As spring begins to approach us in a few months it is important that you begin to take care of all your landscaping, along with your tree service needs. After a long winter it is time to check on the health and re-growth of your garden and all the trees on your property. For clients who are looking to bring life back to their landscapes by servicing their trees, you have come to the right place.
Are you in need of tree removal service?
What you are checking for:
dead branches
bark underneath is green (you can scrap a piece off to check
wilting leaves
dead leaves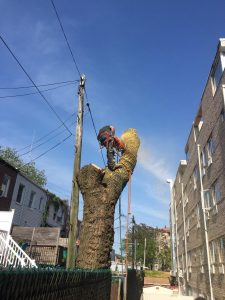 If a tree is dying it must be removed for the safety of your home and people. Because a tree dying it no longer has the same strength to stand upright, this means that at any moment a branch can fall off.
Or even worse, the entire tree can fall down and cause some major damage to your property. Because chances are increased if heavy winds or bad weather offers. To avoid any damage, please call your Queens Tree Removal company as soon as possible. Click here: trees to learn all about NYC tree regulations and the kinds of trees in NYC.
It is very important that if you are going to have your trees cut in NYC that you work with a company that is fully insured, and highly trained in tree cutting and tree removal services.
Queens Tree Removal
Trees can also be removed to make more space in your front or back yard. Whether you want to add a driveway, new patio, swing set or pool. Our Queens Tree Removal company help make your design dream come true. Rather tan look at a backyard filled with dead or unwanted trees you can chose to remove them. This will allow you to create more space and room for home additions.
After safely and efficiently removing your trees we will then offer you the option of stump grinding the root that is left over for a DISCOUNTED price. Stump removal requires a stump grinder machine, which needs to be operated by a professional. And because of our affordable prices many people continue to refer us.
Tree Service Company Queens, NY
Let our tree service company help you with tree cutting, tree trimming, sump grinding, and tree removal when you need it. We are here for you when you need us.
Lastly, for more information on Queens Tree Removal, please call 929-297-0597.