Queens Tree Services
Are you looking for a tree company in Queens? Tarzan Tree Removal provides expert Queens Tree Services to property owners in Queens, Brooklyn, Long Island, and throughout NYC. With the manpower and heavy equipment needed to take on any size tree project, Tarzan Tree Removal can help you get the job right safely and affordably the first time!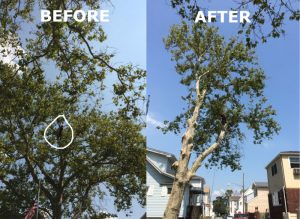 We provide FREE Tree Removal Estimates. A trained tree expert from Tarzan Tree Removal will visit your property to assess the type of tree service you will need. We will also provide onsite free estimates so you know exactly what it will take to get the job completed.
Other tree services we provide include Tree Trimming, Stump Removal, Tree Removal and Stump Grinding. We will also provide emergency services.
Many other Queens tree companies cut your tree, but then leave debris or the stump there for you to deal with it not us. We have the capabilities to remove any size tree stump! Commercial and residential property owners may also need to remove a stump. This could be after a tree falls due to storms or tree decay.
Whatever the reason is that you may need a stump grinded you can always call Tarzan Tree Removal as we are prepared to make a visit within 24 hours and have it removed.
Queens Tree Service
Our company provides strategic tree services by trained and qualified tree experts in all five boroughs of NYC and Long Island. Our company was founded in the wake of Hurricane Sandy. This was during a time in which neighbors and communities around us needed emergency tree services and continued tree services many months (and years) after this historic storm.
When your looking to work with the best you'll want to work with us.
For all of your Queens tree service needs please our team. We will be ready to provide you with affordable and safe tree services.. We're your Queens tree service company!