Queens Tree Service
Queens Tree Company, providing the #1 Tree Service Queens care. We are dedicated to serving our community with the best tree service.
Choosing a tree service company can be tricky, as when you search for one of us on Google dozens fill the pages. In order to weed out which companies you should choose you must do your research. Remember to keep in mind that we provide affordable tree service with a focus on quality care and safety. Our team, including tree climbers and tree pruners, have experience that can only be found in a seasoned professional. From the emergency tree requests from Hurricane Sandy to the simply removal of a pine tree, we will be there in no time.
Our Tree Service company provides an array of services that include tree removal, pruning, trimming and shrub removal. We are currently offering a yard clean-up special for the spring and are offering a 10% discount this spring. This will include any landscaping services including stump removal and hauling. Most of the time we will offer a special of the stump removal after we remove a tree.
Most people don't know but after a tree is removed the root is sticking out of the ground. This stump needs to be removed with a special machine that helps file it to the ground so that is sage to walk over. Our tree contractors are knowledgeable and will be able to help you with all of your tree care needs.
When you want to work with the best Queens Tree Company you want to work with Tarzan Tree Removal.
Tree Service Queens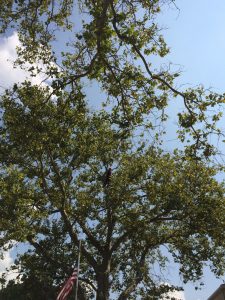 Tree Service Queens; where here when you need us most. Are tree professionals are also fully trained for any type of emergency due to weather or unforeseen events.
Our customers can call any day or time, as we provide emergency tree services in Queens 24/7.
Because our tree company in Queens was formed because of the aftermath of Hurricane Sandy we are very accustomed to dangerous situations. Not every tree company, or those who work for a tree service company is built to handle the most dangerous tree jobs; we are!
No job is too small or big for us, and we pride ourselves in helping property owners care for their trees, and remove any danger from their property
Tree Removal Service
If you're in need of tree care we can send a tree removal professional to your house within 24 to 48 hours for non emergency tree care. If it is an emergency, we will be there in a few hours to help our clients. Our team would never let our clients down and we pride ourselves in reliability and strength it takes to serve you.
It is rare you will find a team of professionals in this industry that care as much about their clients as we do.
We are very proud of the reputation we have established and that people rely on us for all of their tree care needs.
Lastly, if you are interested in booking a Tree Service consultation or learning more about our company, please give us a call today at 929-297-0597!