Queens Tree Service
At Queens Tree Company, the top rated Queens Tree Service, we provide the best tree care in the five boroughs and Long Island. With a staff of experienced tree professionals and arborist that only way we do a job is the right way. Many tree services will try to overprice a job and do it as quickly as possible.
If a tree is not removed or trimmed the right way it can either cause damage to the property or fall. That is why you should choose us!
Our company provides tree removal, tree trimming, stump removal and landscaping. We are fully insured in the state of New York, so there is no worry about property being damaged since we are covered. Although we have yet to cause any damage to the homes or property of our customers, we understand accidents can happen.
Because of this if our customers ever need a certificate of insurance with their address, we have it ready.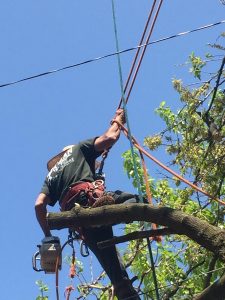 We also can remove any bug infestation or tree rotting that is on your tree. Tree professionals at Queens Tree Company do their best to save a tree if they can. If a tree is sickly in any way it is vital that you call us as soon as possible. This can possibly save you from removing the tree entirely and spending more money. Believe it or not at least five times a day our  Queens Tree Services company gets a call from someone who is in need of a local tree company.
Taking care of the trees on your property is important for their health and welfare. Be sure to look out for leaning trees, discolored leaves and any rotting around the base of the root.
Tree Removal & Tree Cutting
Since we work in the five boroughs we are constantly facing the issue of backyard access. However, property owners do not have to worry about our ability to get into a backyard with tight spaces. With houses close together and only small widths of access to reach a backyard, whether it is a private home or coop, makes any type of tree service difficult.
Our team highly trained to work in tight conditions and situations. Our tree climbers make the most precise cuts and our team down below is strategically aligned to catch every falling limber.
Our company believes in serving all of our customers with the highest quality and care. If you want to learn more about our services or book an appointment please call 929-297-0597
We will always provide you with the #1 tree service in Queens.