Queens Tree Trimming
Welcome to Tarzan Tree Removal, the #1 Queens Tree Trimming company. We are your number one tree service company serving property owners in Queens. For anyone looking to remove dead branches, twigs and leaves, our local tree experts are ready. We are prepared to jobs of all sizes and environments. During this time of year commercial and residential owners are getting their properties ready for the beautiful weather. This means fixing cracked concrete, planting new flowers and grass, and of course, trimming trees.
Our Tree Trimming company give's our customers the most affordable prices on all tree services in Queens. We also provide free tree estimates for anyone who wants to inquire about any tree on their property. A lot of the time customers think that you have to pay for an estimate, but that is not the case. Estimates are always FREE.
Our team of professionals will visit the property and give you the most fair price that we can. We then wait for the clients to set up an appointment without any pressure from us. We understand that sometimes these services may not be in your budget, however we can help you with creative terms and discounts when available.
Queens Tree Trimming Company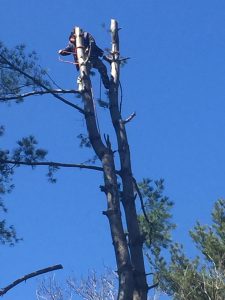 At our company we are enthusiastic and passionate about the tree services we provide, and the people we serve. Our team actually enjoys hands on tree work. Our local tree company also has some of the best tree climbers in the area.
For those of you who do not know, tree climbers are the people who climb to the top of the tree to either remove branches or begin the tree removal process. You have to start at the top of the tree and work your way down very carefully. Tree climbers have to be skilled, as one small cut in the wrong spot can cause a tree or its branches to fall down and cause serious damage. This means possibly hitting the house and damaging property, or worst, falling on a person.
A professional tree trimming company like ours avoids this by making executive decisions based on the skillful training of our staff.
Our Queens Tree Trimming company is also fully insured.
For any questions relating to Queens tree service or landscaping, please call 347-833-5862 or send an email to booking@tarzantreeremoval.com